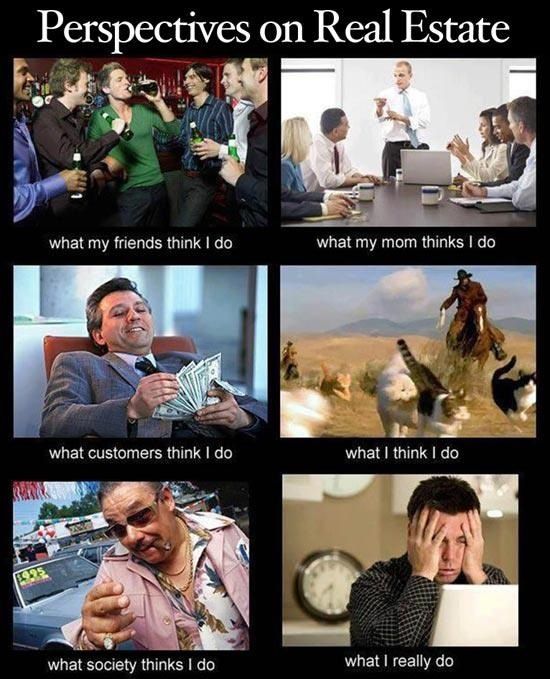 So you want to buy or sell a home? Wondering if your should use a Realtor? Wondering what the heck a Realtor does anyway?

Unlike other jobs, a Realtor works for free and doesn't get rewarded with the hard-earned paycheck unless and until the sale closes, which is typically 45-60 days after an offer has been accepted . Here is a simplified list of what a Realtor does:
Research comparable properties and compile listing presentations.
Educate buyers and sellers of current market conditions.
Verify property details: lot size, taxes, utilities, restrictions, etc.
Input listings/data into numerous MLS databases, and several other websites.
Create and pay for newspaper ads, flyers & promotional materials
Host & promote Open Houses.
Counsel people, listen to their needs and wants, worries and concerns
Communicate with co-op agents and brokers, title agencies, home inspectors, home appraisers, pest inspectors, well & septic inspectors and loan officers. This includes phone calls and emails and we must keep all communications organized too.
Help stage homes for open house, showings and photos
Schedule and attend the home inspection.
Schedule multiple showings and spend countless hours driving and showing homes.
Check and respond to online inquiries, social media and website alerts, and hundreds of emails daily.
Receive and respond to dozens of phone calls and text messages, daily.
Attend continuing education classes every year, and stay current with the ever-changing rules and laws within the real estate industry.
Spend countless hours hunched over a computer researching, marketing and filling out paperwork.
Review closing costs and prepare clients for the closing.
Organize, complete, and review hundreds of pieces of paperwork per client.
Never "punch out" and basically remain "on call" every day, all day. During weekends, holidays, and vacations too! (We love it or we wouldn't do it)
Suggest curb appeal enhancements or home updates/upgrades.
Request feedback from buyer's agents, and often times we hunt them down just to get it, and leave feedback after showing homes to our own buyers.
Stay educated on market values, comps and suggest price changes when needed.
Receive and present offers to sellers.
Execute and provide expert advice on offers for buyers/sellers.
Negotiate counteroffers. Re-Negotiate, and sometimes re-negotiate again. This also includes getting addendums and amendments drafted and signed for each re-negotiation.
Coordinate details with lenders and closing companies, often troubleshooting issues without the client knowing
Arrange appraisal. Pull comps and meet with appraiser. Stay patient for at least a week while anxiously waiting for the appraisal report.
(Best of all) Experiencing the joy with clients when they sell a home or buy a home and knowing all the hard work and stress was worth it in the end.
There you go. A short list on what a Realtor can do for you. What can you do for your Realtor, you ask? Refer Refer Refer. A glowing review and referral from a satisfied client is the best way to thank a Realtor for a job well done.